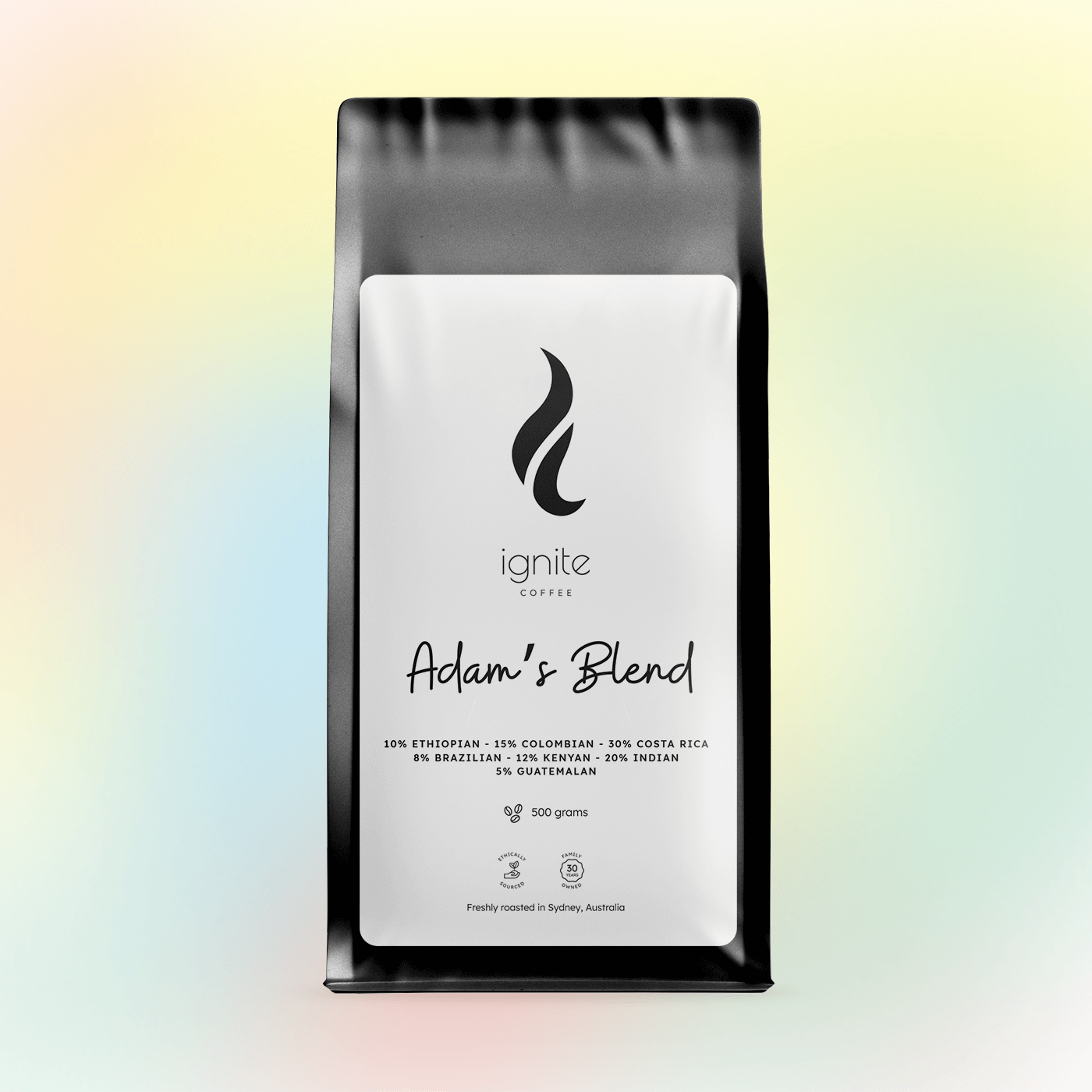 Design your Own Coffee Blend
Custom Coffee That's Uniquely Yours
500 g
Regular price

$24.00 USD

Save 0%

Unit price

per
There's nothing quite like a great cup of coffee. The perfect blend of beans, the right roasting method, and your personal touch can make all the difference. But what if you could take things one step further and create your own coffee blend?
Simply adjust the ratios until you find the Goldilocks zone for your ideal cup and we'll handle the rest!
Now you have your very own personalised coffee blend.
Help me choose
Free shipping on orders over $50 Australia-wide
10% of our net profits goes to charity. Read more.
Coffee Grind Size Chart
Match your preferred brewing type to the typical grind size below.
Turkish
Espresso Machine
Moka Pot/Stove Top
Reusable Pods
Pour Over
Machine Drip
Siphon
AeroPress
Chemex
French Press
Cold Brew
Percolator
Get to know your coffee
Our mission is to provide people with specialty great tasting coffee that is ethically sourced while giving back to make this a better world.
25 cm wide, 12.5 cm high, 9 cm deep
Coffee bag with degassing air valve
Rip zip opening and resealable
Create a blend that's uniquely yours
Get to know our beans and craft your own coffee blend by changing the ratios using the sliders above.
| | | | |
| --- | --- | --- | --- |
| Origin | Type | Tasting Notes | Roast |
| Papua New Guinea | Arabica | Berry, mulberry, sweet | Medium - Dark |
| Kenya | Arabica | Classic, elegant cup - chocolate, currants, berries | Medium - Dark |
| Colombia | Arabica | Apple, dark chocolate, cocoa | Light |
| Costa Rica | Arabica | Dark chocolate, caramel, prunes, juicy body | Light |
| Guatemala | Arabica | Fine dark chocolate, nutty, smooth, lovely acidity | Light - Medium |
| Indonesia Java | Arabica | Caramel, dark chocolate | Medium - Dark |
| Indonesian Kuda Mas | Arabica | Citrus, spicy, chocolate | Medium - Dark |
| Brazil Minas | Arabica | Unique flavour known as 'Full Medicinal' ideal for Lebenese or Turkish style coffee | Light - Medium |
| Brazil Santos | Arabica | Dark chocolate, roasted almonds | Light - Medium |
| India | Robusta | Good body, soft, balanced cup, cocoa notes | Medium - Dark |
| Ethiopia | Arabica | Dark chocolate, raisin, honey, banana, hint of blackberry | Light - Medium |
Additional Information

25 cm wide, 12.5 cm high, 9 cm deep

Coffee bag with degassing air valve
Rip zip opening and resealable




Create a blend that's uniquely yours

Get to know our beans and craft your own coffee blend by changing the ratios using the sliders above.




| | | | |
| --- | --- | --- | --- |
| Origin | Type | Tasting Notes | Roast |
| Papua New Guinea | Arabica | Berry, mulberry, sweet | Medium - Dark |
| Kenya | Arabica | Classic, elegant cup - chocolate, currants, berries | Medium - Dark |
| Colombia | Arabica | Apple, dark chocolate, cocoa | Light |
| Costa Rica | Arabica | Dark chocolate, caramel, prunes, juicy body | Light |
| Guatemala | Arabica | Fine dark chocolate, nutty, smooth, lovely acidity | Light - Medium |
| Indonesia Java | Arabica | Caramel, dark chocolate | Medium - Dark |
| Indonesian Kuda Mas | Arabica | Citrus, spicy, chocolate | Medium - Dark |
| Brazil Minas | Arabica | Unique flavour known as 'Full Medicinal' ideal for Lebenese or Turkish style coffee | Light - Medium |
| Brazil Santos | Arabica | Dark chocolate, roasted almonds | Light - Medium |
| India | Robusta | Good body, soft, balanced cup, cocoa notes | Medium - Dark |
| Ethiopia | Arabica | Dark chocolate, raisin, honey, banana, hint of blackberry | Light - Medium |