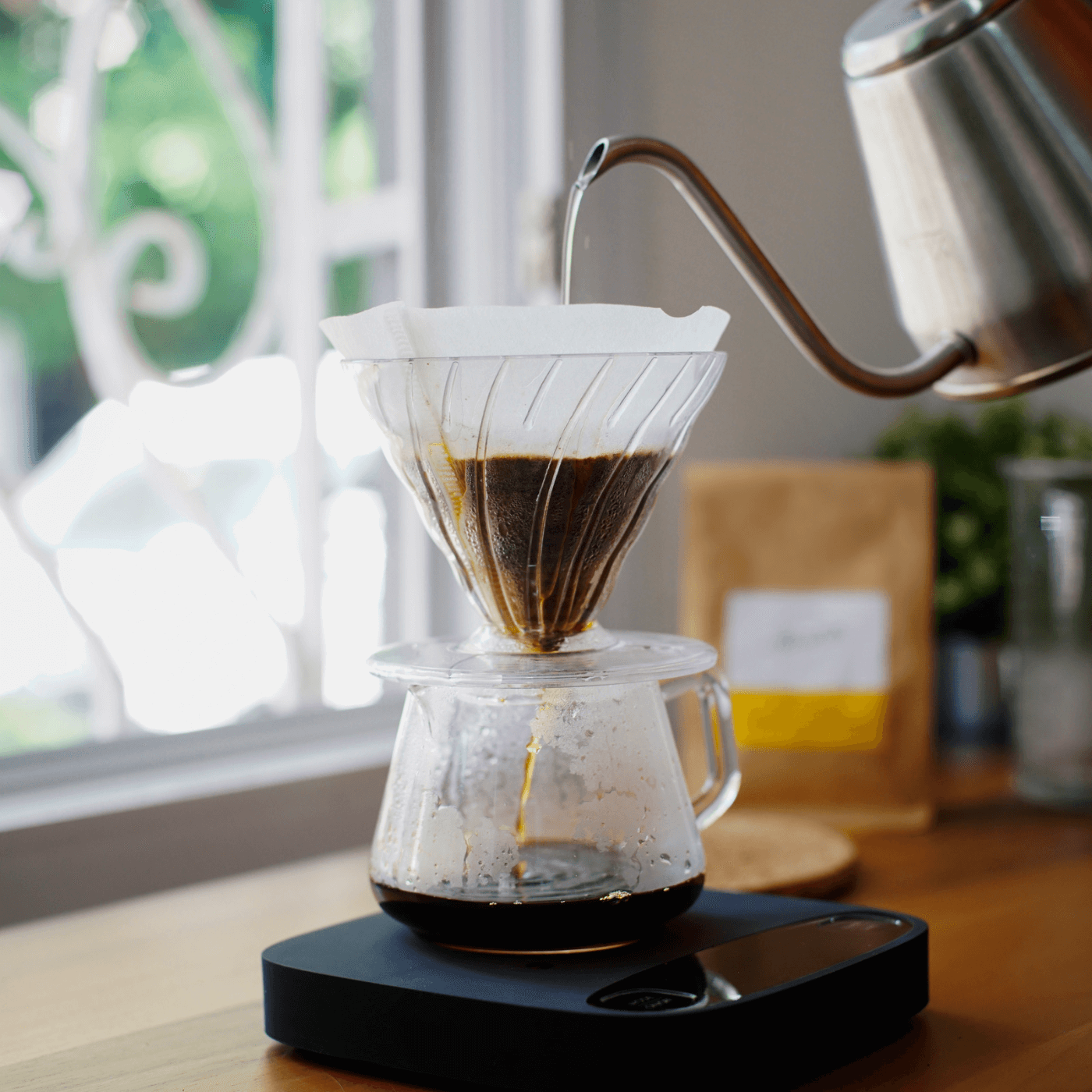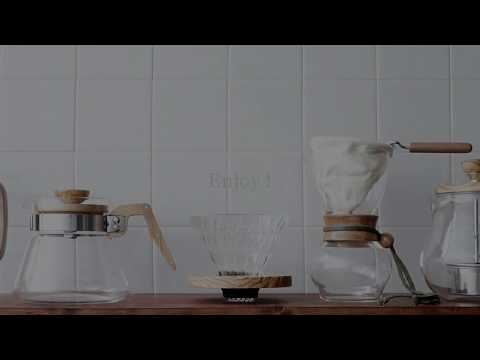 Hario V60 Pour Over Dripper and 40-pack Paper Filter
Size 02 Clear Plastic Pour Over Dripper and 40 x Filters
Regular price

$23.00 USD

Save 0%

Unit price

per
Free shipping on orders over $50 Australia-wide
Get Started with Pour Over Coffee Brewing

The classic Hario V60 Plastic – Clear brews a delicious cup, is nearly indestructible, and is transparent enough to still look great in any kitchen. This world-renowned Japanese brewer is known for its wide drainage hole and spiralling ridges that encourage a balanced brew. It's easy to use and - thanks to Hario's own V60 filters - produces a mug with a clean mouthfeel, bright flavour, and crisp acidity.
Reasons to love the Hario V60:
Crisp, clean coffee - t

he cone maintains a steady temperature throughout the brew to ensure a balanced cup resulting in

 a particularly clean body and bright, satisfying flavour
Durable clear plastic build - the BPA-Free plastic body is transparent, nearly unbreakable, and is rated food-safe

Biodegradable coffee paper filters - made of FSC-certified paper from responsible sources, the Hario V60 filter papers are biodegradable and will consistently deliver a perfectly clean, sediment-free brew
10% of our net profits goes to charity. Read more.
What's in the Box
1 x Hario V60 Pour Over Dripper - Plastic Clear Size 02
1x 40-pack Hario Coffee Paper Filter for Size 02
Brew for Specialty with the Hario V60
There are three features that make the V60 a favourite of specialty coffee brewers:
Cone shape - the cone-shaped dripper lets hot water flow toward the centre, allowing it to stay in contact with the coffee grounds longer and ensuring a proper extraction of taste and aromatic constituents from the coffee grounds.
Spiral ribs - when grounds are saturated, the high ribs do not hinder their expansion and a layer of air is created between the paper and the dripper. The twisted ribs prevent the paper and dripper from sticking, letting the air through and allowing the grounds to expand adequately to promote a smooth extraction.
A single large hole - this makes the tip of the paper protrude through the hole, allowing the hot water, unrestricted by the dripper, to performextraction closer to that of a cloth filter. By changing the speed of the pouring, you can brew coffee with your preferred taste - stronger or lighter.
| | |
| --- | --- |
| Materials | BPA-free clear plastic |
| Size | Size 02 - brews 1-4 cups of coffee |
About the Hario V60 Coffee Paper Filters
The V60 2-cup (40pcs) filters that come in a box are the original Hario paper filters manufactured from their first factory. Using them alongside your Hario V60 brewer, these filters have a smooth texture to both sides of the filter making superb, even and steady flow of water during brewing.
Having been oxygen-bleached, it is always recommended to pre-wet or rinse the papers prior to use to ensure that no paper taste is transferred during the brewing process. The Hario V60 filter papers are biodegradable and will consistently deliver a perfectly clean, sediment-free brew.
Made form FSC certified paper. FSC is a 100% reliable label that identifies products which are made of 100% virgin material from FSC-certified forests.
Original Hario filters - Made in Japan, in their first factory, these filters offer a slightly faster steady flow than the plastic packet filters.
White 'oxygen bleached' filter - For a vibrant clean look and smooth texture to the filter.
Biodegradable - All Hario Paper Filters are compostable and will break up over time.
FSC Approved paper - Made from responsible sources and have been verified to meet FSC's strict environmental and social standards.
Hario V60 Pour Over Brewing Instructions
Place a filter in the dripper and rinse it with hot water
Grind 20g of coffee at a medium-fine setting and pour in the dripper
Slowly pour 40 ml of hot water over the grounds to evenly saturate them
After 30 seconds, pour the remaining 300 ml in slow circles
When the coffee finishes draining, pour and enjoy
Additional Information

What's in the Box

1 x Hario V60 Pour Over Dripper - Plastic Clear Size 02
1x 40-pack Hario Coffee Paper Filter for Size 02

Brew for Specialty with the Hario V60

There are three features that make the V60 a favourite of specialty coffee brewers:

Cone shape - the cone-shaped dripper lets hot water flow toward the centre, allowing it to stay in contact with the coffee grounds longer and ensuring a proper extraction of taste and aromatic constituents from the coffee grounds.
Spiral ribs - when grounds are saturated, the high ribs do not hinder their expansion and a layer of air is created between the paper and the dripper. The twisted ribs prevent the paper and dripper from sticking, letting the air through and allowing the grounds to expand adequately to promote a smooth extraction.
A single large hole - this makes the tip of the paper protrude through the hole, allowing the hot water, unrestricted by the dripper, to performextraction closer to that of a cloth filter. By changing the speed of the pouring, you can brew coffee with your preferred taste - stronger or lighter.

| | |
| --- | --- |
| Materials | BPA-free clear plastic |
| Size | Size 02 - brews 1-4 cups of coffee |




About the Hario V60 Coffee Paper Filters

The V60 2-cup (40pcs) filters that come in a box are the original Hario paper filters manufactured from their first factory. Using them alongside your Hario V60 brewer, these filters have a smooth texture to both sides of the filter making superb, even and steady flow of water during brewing.

Having been oxygen-bleached, it is always recommended to pre-wet or rinse the papers prior to use to ensure that no paper taste is transferred during the brewing process. The Hario V60 filter papers are biodegradable and will consistently deliver a perfectly clean, sediment-free brew.

Made form FSC certified paper. FSC is a 100% reliable label that identifies products which are made of 100% virgin material from FSC-certified forests.

Original Hario filters - Made in Japan, in their first factory, these filters offer a slightly faster steady flow than the plastic packet filters.
White 'oxygen bleached' filter - For a vibrant clean look and smooth texture to the filter.
Biodegradable - All Hario Paper Filters are compostable and will break up over time.
FSC Approved paper - Made from responsible sources and have been verified to meet FSC's strict environmental and social standards.

Hario V60 Pour Over Brewing Instructions

Place a filter in the dripper and rinse it with hot water
Grind 20g of coffee at a medium-fine setting and pour in the dripper
Slowly pour 40 ml of hot water over the grounds to evenly saturate them
After 30 seconds, pour the remaining 300 ml in slow circles
When the coffee finishes draining, pour and enjoy