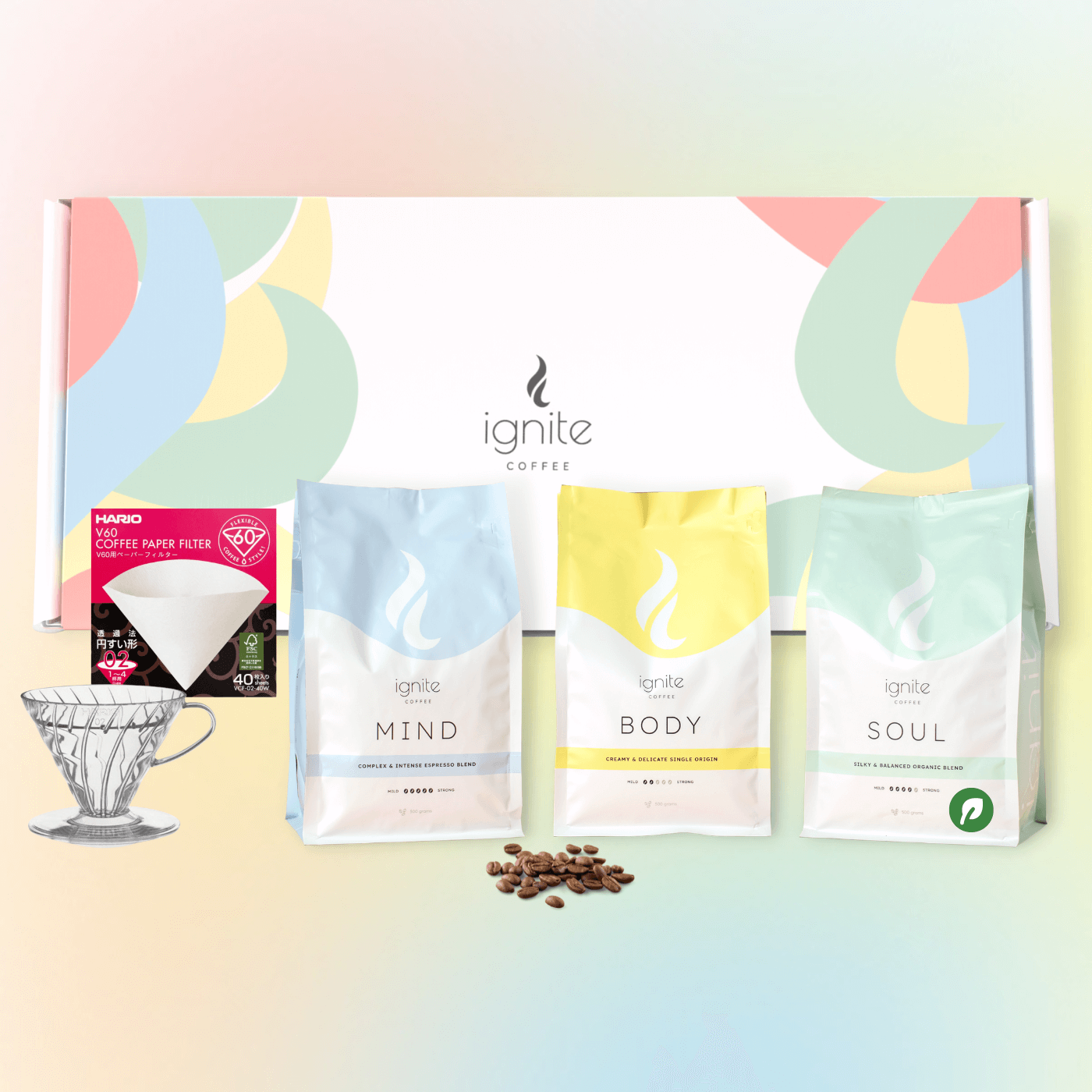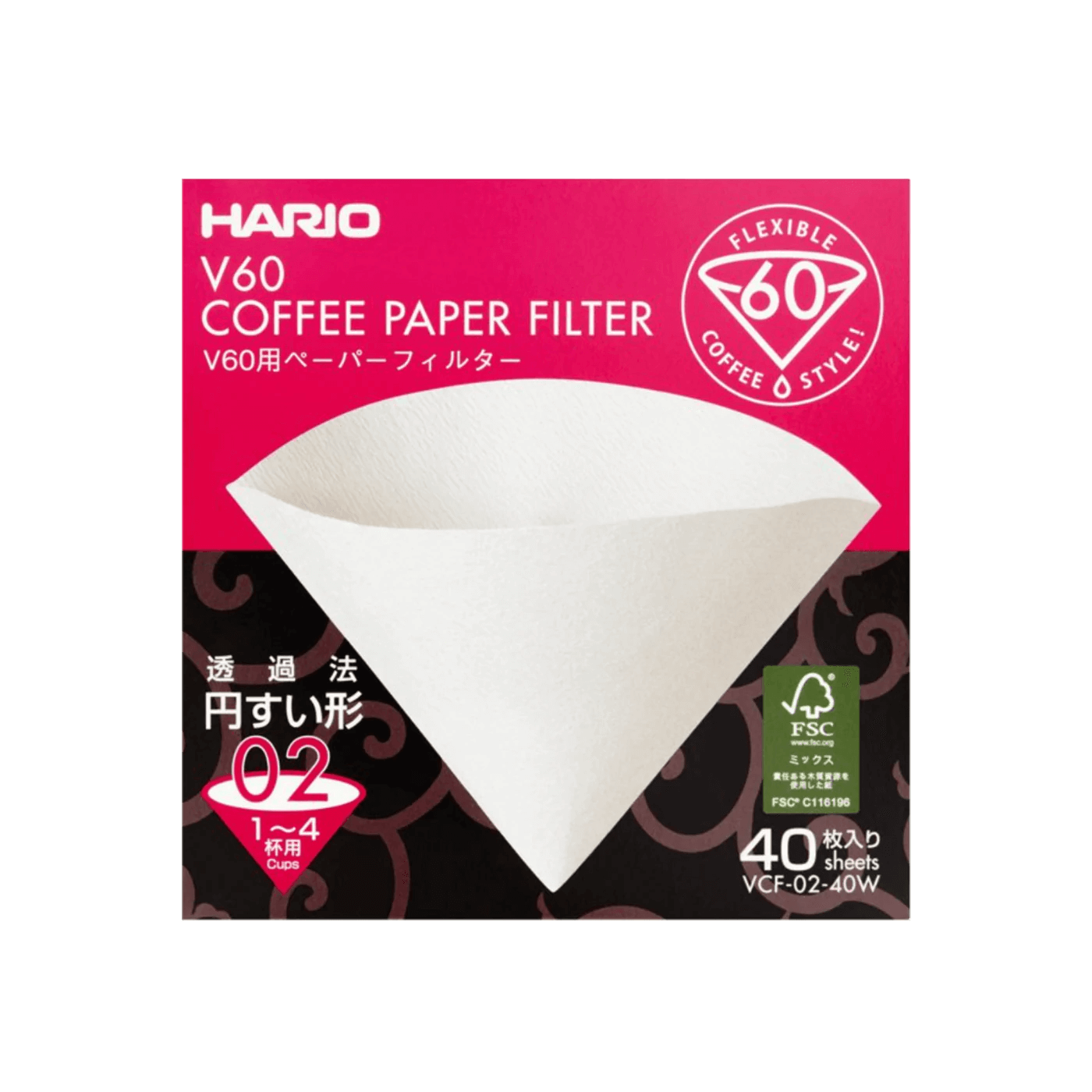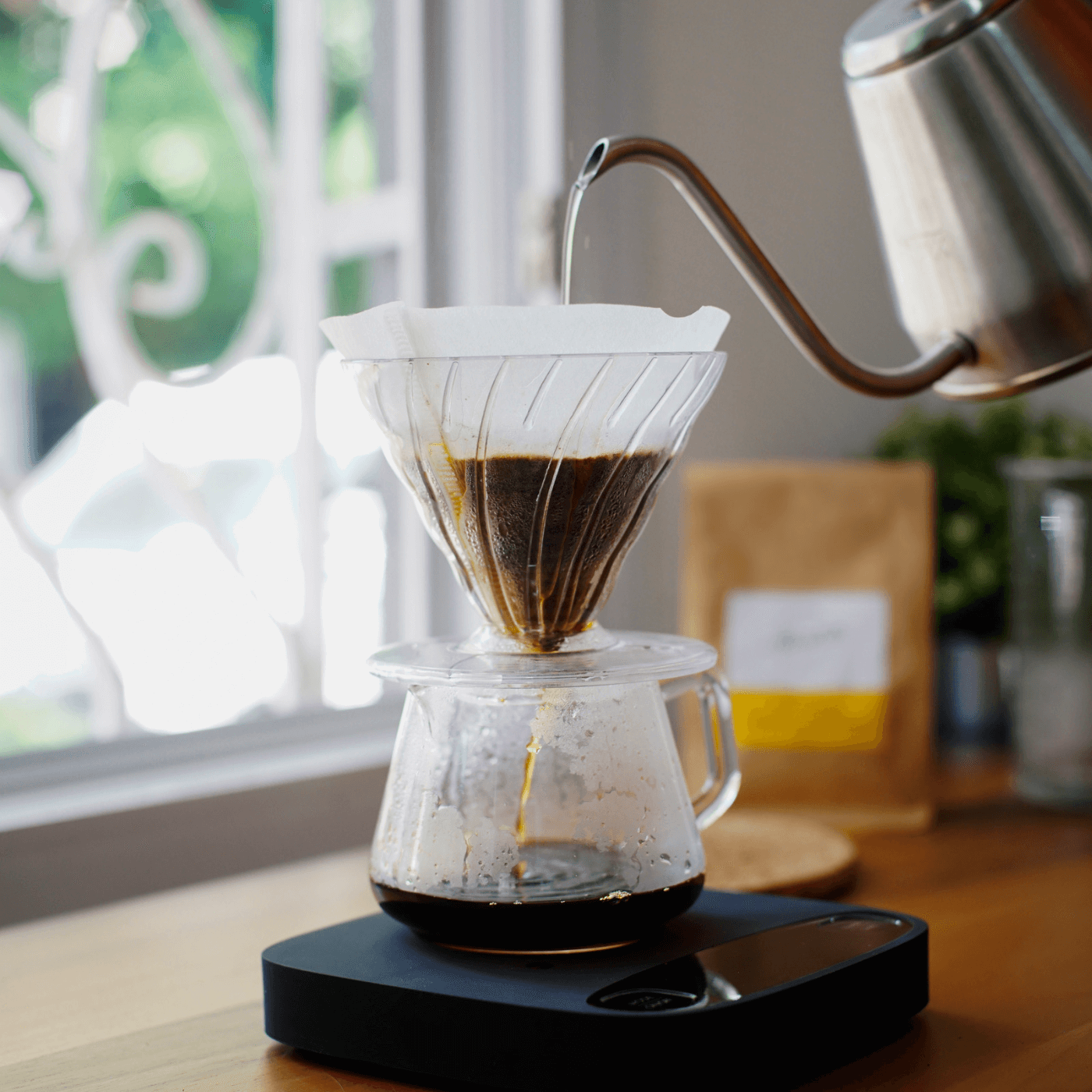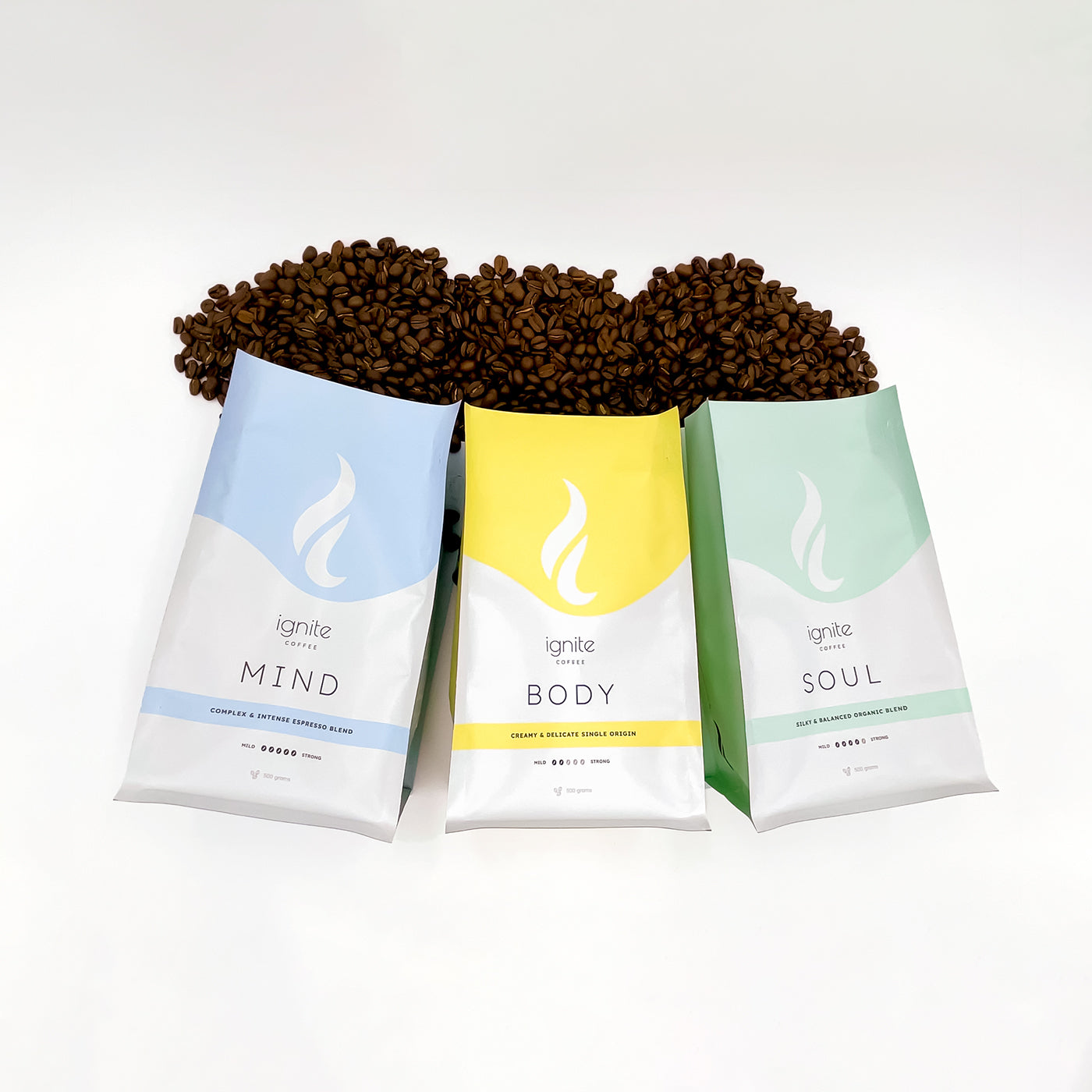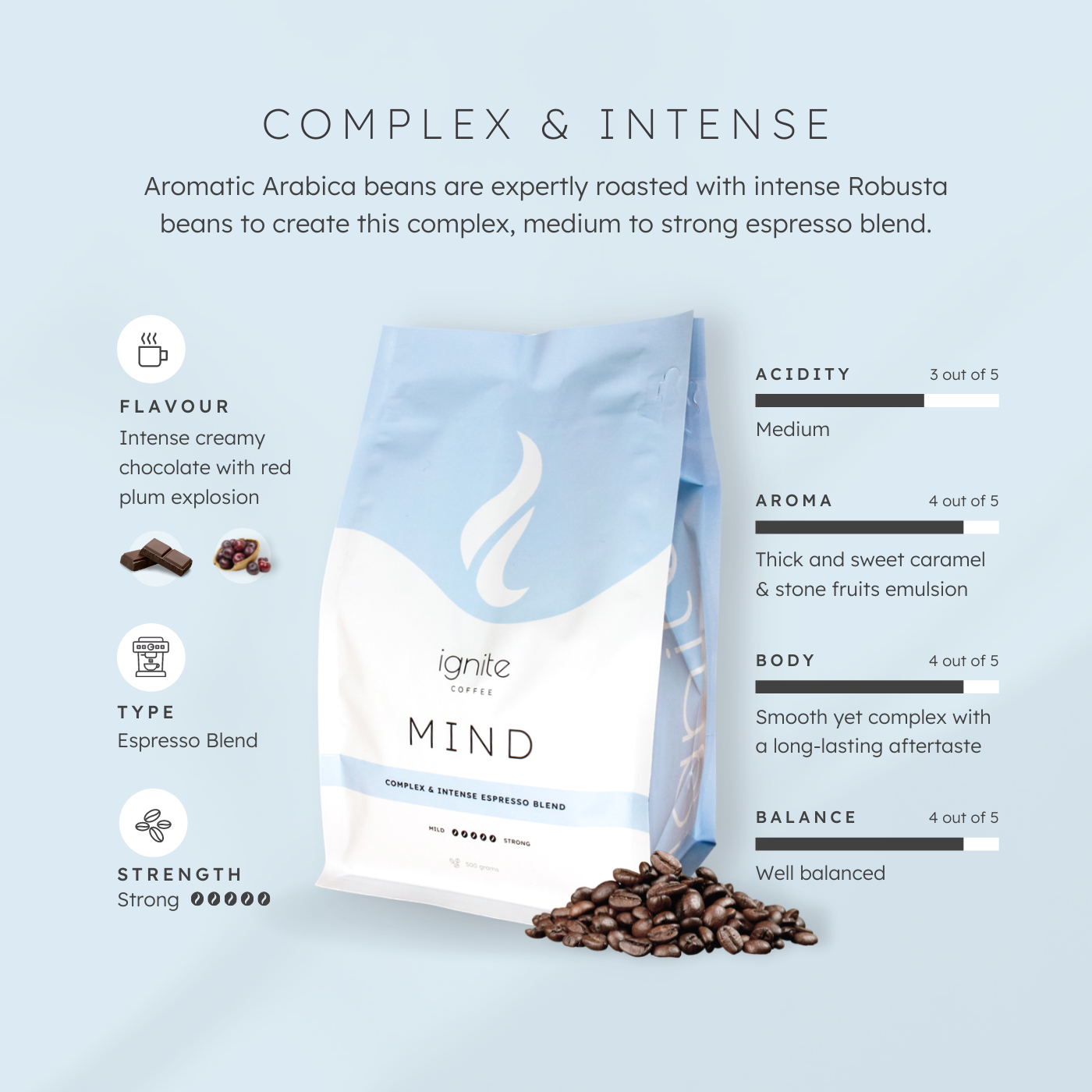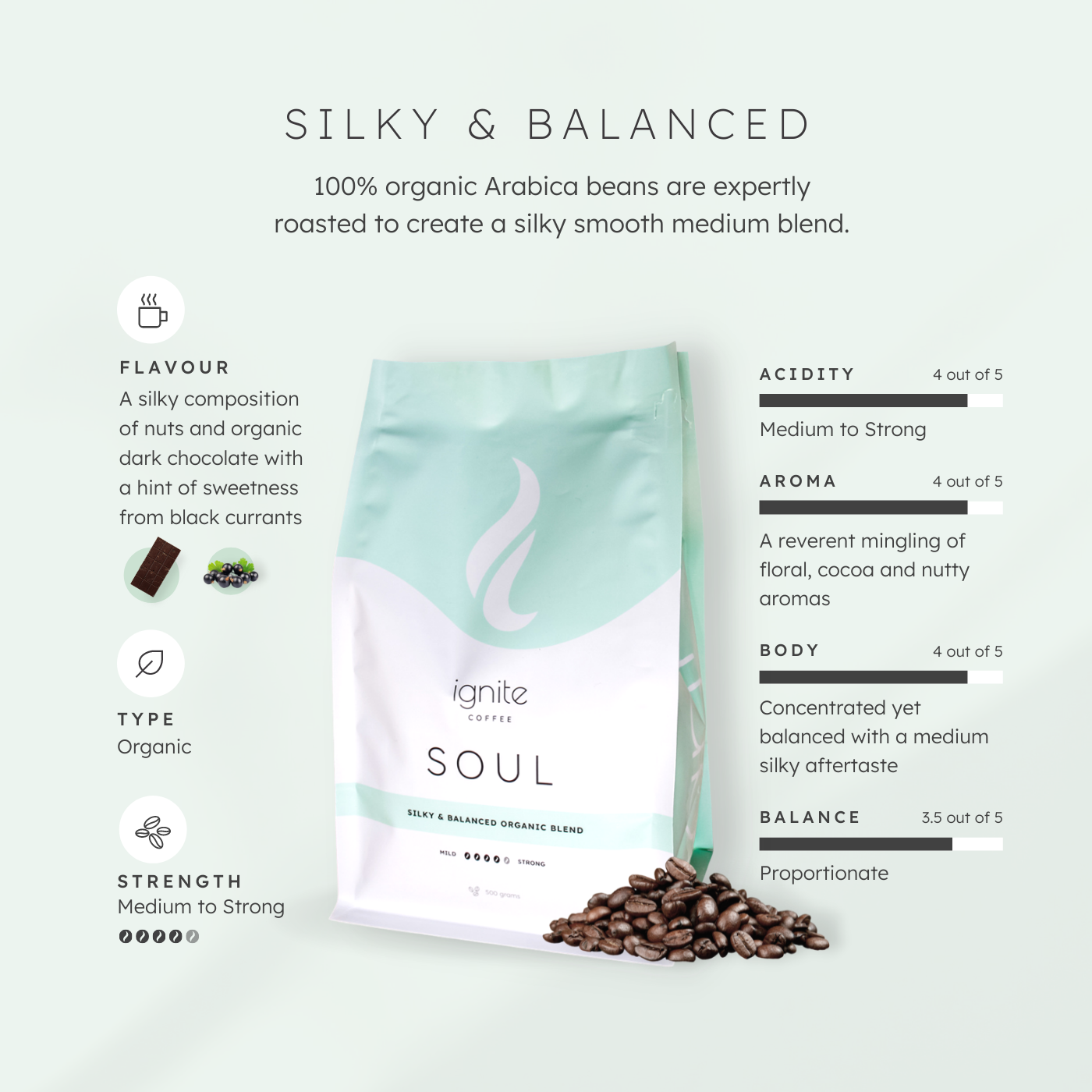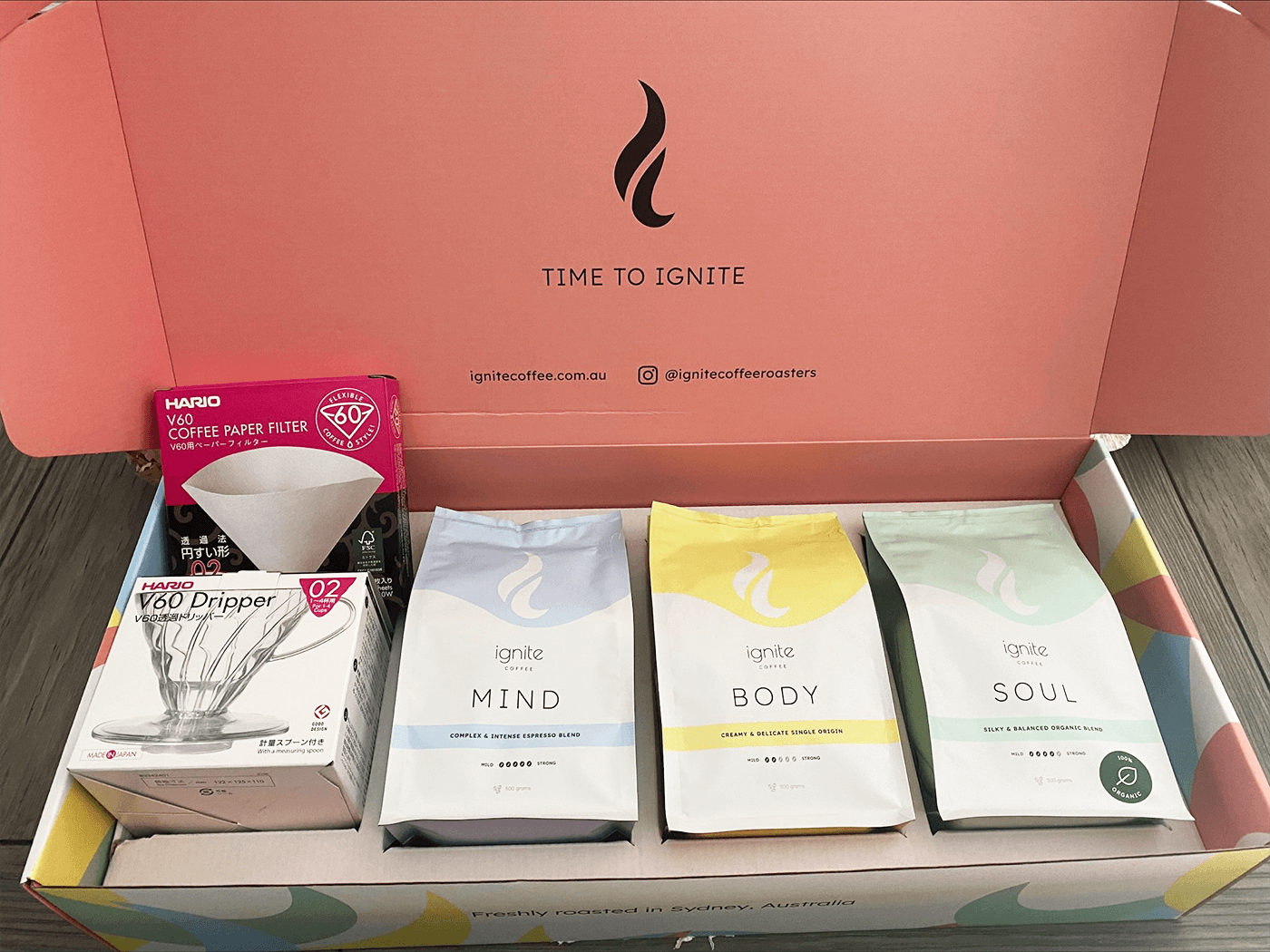 Coffee Starter Kit - Hario V60 Pour Over
The Perfect Trio and a Hario V60 Pour Over Kit
Regular price

$71.00 USD

Save 0%

Unit price

per
Help me choose
Free shipping on orders over $50 Australia-wide
Get Started with Pour Over Coffee Brewing
There's a reason the Hario V60 has become increasingly popular over the years - in just three minutes, you can produce a clean cup that brings out the subtlest notes in your specialty coffee.
This gift pack features a 2-cup Hario V60 Pour Over Dripper, 40pcs of biodegradable coffee paper filter, and 3x 500g bags of specialty coffee. Our coffee is freshly roasted to ensure optimal flavour and thanks to Hario's own V60 filters - this pour over brewer produces a mug with a clean mouthfeel, bright flavour, and crisp acidity. Perfect for someone just getting into pour over brewing, a seasoned home barista or a specialty coffee aficionado.
1 x Hario V60 Plastic - Clear - Size 02 -

wide drainage hole and spiralling ridges that encourage a balanced brew



40pcs Hario V60 Coffee Paper Filter - biodegradable and FSC-certified
1 x Mind

 

- a c

omplex espresso blend characterised by an intense creamy chocolate with red plum explosion

1 x Body - a creamy single origin with a delicately prominent flavour characterised by marshmallow, liquorice and peach
1 x Soul

 

- a balanced 100% organic blend with a silky

 composition of nuts and organic dark chocolate with a hint of sweetness from blackcurrants
Available as whole beans, ground coffee or 25 compostable Nespresso-compatible capsules.
10% of our net profits goes to charity. Read more.
Coffee Grind Size Chart
Match your preferred brewing type to the typical grind size below.
Turkish
Espresso Machine
Moka Pot/Stove Top
Reusable Pods
Pour Over
Machine Drip
Siphon
AeroPress
Chemex
French Press
Cold Brew
Percolator
Get to know your coffee
Our mission is to provide people with specialty great tasting coffee that is ethically sourced while giving back to make this a better world.
What's in the Box
1 x Hario V60 Pour Over Dripper - Plastic Clear Size 02
1x 40-pack Hario Coffee Paper Filter for Size 02
3 x 500g Whole Bean/Ground OR 3x 25 Compostable Pods Specialty Coffee
Brew for Specialty with the Hario V60
There are three features that make the V60 a favourite of specialty coffee brewers:
Cone shape - the cone-shaped dripper lets hot water flow toward the centre, allowing it to stay in contact with the coffee grounds longer and ensuring a proper extraction of taste and aromatic constituents from the coffee grounds.
Spiral ribs - when grounds are saturated, the high ribs do not hinder their expansion and a layer of air is created between the paper and the dripper. The twisted ribs prevent the paper and dripper from sticking, letting the air through and allowing the grounds to expand adequately to promote a smooth extraction.
A single large hole - this makes the tip of the paper protrude through the hole, allowing the hot water, unrestricted by the dripper, to performextraction closer to that of a cloth filter. By changing the speed of the pouring, you can brew coffee with your preferred taste - stronger or lighter.
| | |
| --- | --- |
| Materials | BPA-free clear plastic |
| Size | Size 02 - brews 1-4 cups of coffee |
About the Hario V60 Coffee Paper Filters
The V60 2-cup (40pcs) filters that come in a box are the original Hario paper filters manufactured from their first factory. Using them alongside your Hario V60 brewer, these filters have a smooth texture to both sides of the filter making superb, even and steady flow of water during brewing.
Having been oxygen-bleached, it is always recommended to pre-wet or rinse the papers prior to use to ensure that no paper taste is transferred during the brewing process. The Hario V60 filter papers are biodegradable and will consistently deliver a perfectly clean, sediment-free brew.
Made form FSC certified paper. FSC is a 100% reliable label that identifies products which are made of 100% virgin material from FSC-certified forests.
Original Hario filters - Made in Japan, in their first factory, these filters offer a slightly faster steady flow than the plastic packet filters.
White 'oxygen bleached' filter - For a vibrant clean look and smooth texture to the filter.
Biodegradable - All Hario Paper Filters are compostable and will break up over time.
FSC Approved paper - Made from responsible sources and have been verified to meet FSC's strict environmental and social standards.
Hario V60 Pour Over Brewing Instructions
Place a filter in the dripper and rinse it with hot water
Grind 20g of coffee at a medium-fine setting and pour in the dripper
Slowly pour 40 ml of hot water over the grounds to evenly saturate them
After 30 seconds, pour the remaining 300 ml in slow circles
When the coffee finishes draining, pour and enjoy
Mind
Aromatic Arabica beans are expertly roasted with intense Robusta beans to create this complex, medium to strong espresso blend.
Flavour/Taste
Intense creamy chocolate with red plum explosion
Roast
Medium to Dark
Strength
5/5 - Strong
Acidity
3/5 - Medium
Aroma
4/5 - Thick and sweet caramel and stone fruits emulsion
Body
4/5 - Smooth yet complex with a long-lasting aftertaste
Balance
4/5 - Well-balanced
Origin
Waghi Valley, Papua New Guinea (Arabica, Bean Score: 80)
Eastern Kenya, Kenya (Arabica, Bean Score: 80)
Chimagalur, India (Robusta, Bean Score: 80)
Body
Flavoursome Arabica beans are expertly roasted to create a creamy, light to medium body single origin coffee.
| | |
| --- | --- |
| Flavour/Taste | A delicately prominent flavour characterised by marshmallow, liquorice and peach |
| Roast | Medium |
| Strength | 2/5 - Mild to Medium |
| Acidity | 4/5 - Medium to High |
| Aroma | 3.5/5 - A strikingly sweet and fruity lollipop |
| Body | 4/5 - Round, opaque with a smooth long-lasting aftertaste |
| Balance | 4/5 - Proportionate |
| Origin | Tarrazu, Costa Rica (Arabica, Bean Score: 83) |
Soul
100% organic Arabica beans are expertly roasted to create a silky smooth medium blend.
Flavour/Taste
A silky composition of nuts and organic dark chocolate with a hint of sweetness from blackcurrants
Roast
Light to Medium
Strength
4/5 - Medium to Strong
Acidity
4/5 - Medium
Aroma
4/5 - A reverent mingling of floral, cocoa and nutty aromas
Body
4/5 - Concentrated yet balanced with a medium silky aftertaste
Balance
3.5/5 - Proportionate
Origin
San Miguel Pochuta (Arabica, Bean Score: 80)
Tolima, Colombia (Arabica, Bean Score: 84)
Certification
UTZ Certified
NASAA Certified Organic
Rainforest Alliance
Additional Information

What's in the Box

1 x Hario V60 Pour Over Dripper - Plastic Clear Size 02
1x 40-pack Hario Coffee Paper Filter for Size 02
3 x 500g Whole Bean/Ground OR 3x 25 Compostable Pods Specialty Coffee

Brew for Specialty with the Hario V60

There are three features that make the V60 a favourite of specialty coffee brewers:

Cone shape - the cone-shaped dripper lets hot water flow toward the centre, allowing it to stay in contact with the coffee grounds longer and ensuring a proper extraction of taste and aromatic constituents from the coffee grounds.
Spiral ribs - when grounds are saturated, the high ribs do not hinder their expansion and a layer of air is created between the paper and the dripper. The twisted ribs prevent the paper and dripper from sticking, letting the air through and allowing the grounds to expand adequately to promote a smooth extraction.
A single large hole - this makes the tip of the paper protrude through the hole, allowing the hot water, unrestricted by the dripper, to performextraction closer to that of a cloth filter. By changing the speed of the pouring, you can brew coffee with your preferred taste - stronger or lighter.

| | |
| --- | --- |
| Materials | BPA-free clear plastic |
| Size | Size 02 - brews 1-4 cups of coffee |




About the Hario V60 Coffee Paper Filters

The V60 2-cup (40pcs) filters that come in a box are the original Hario paper filters manufactured from their first factory. Using them alongside your Hario V60 brewer, these filters have a smooth texture to both sides of the filter making superb, even and steady flow of water during brewing.

Having been oxygen-bleached, it is always recommended to pre-wet or rinse the papers prior to use to ensure that no paper taste is transferred during the brewing process. The Hario V60 filter papers are biodegradable and will consistently deliver a perfectly clean, sediment-free brew.

Made form FSC certified paper. FSC is a 100% reliable label that identifies products which are made of 100% virgin material from FSC-certified forests.

Original Hario filters - Made in Japan, in their first factory, these filters offer a slightly faster steady flow than the plastic packet filters.
White 'oxygen bleached' filter - For a vibrant clean look and smooth texture to the filter.
Biodegradable - All Hario Paper Filters are compostable and will break up over time.
FSC Approved paper - Made from responsible sources and have been verified to meet FSC's strict environmental and social standards.

Hario V60 Pour Over Brewing Instructions

Place a filter in the dripper and rinse it with hot water
Grind 20g of coffee at a medium-fine setting and pour in the dripper
Slowly pour 40 ml of hot water over the grounds to evenly saturate them
After 30 seconds, pour the remaining 300 ml in slow circles
When the coffee finishes draining, pour and enjoy

Mind

Aromatic Arabica beans are expertly roasted with intense Robusta beans to create this complex, medium to strong espresso blend.

Flavour/Taste
Intense creamy chocolate with red plum explosion
Roast
Medium to Dark
Strength
5/5 - Strong
Acidity
3/5 - Medium
Aroma
4/5 - Thick and sweet caramel and stone fruits emulsion
Body
4/5 - Smooth yet complex with a long-lasting aftertaste
Balance
4/5 - Well-balanced
Origin
Waghi Valley, Papua New Guinea (Arabica, Bean Score: 80)
Eastern Kenya, Kenya (Arabica, Bean Score: 80)
Chimagalur, India (Robusta, Bean Score: 80)

Body

Flavoursome Arabica beans are expertly roasted to create a creamy, light to medium body single origin coffee.

| | |
| --- | --- |
| Flavour/Taste | A delicately prominent flavour characterised by marshmallow, liquorice and peach |
| Roast | Medium |
| Strength | 2/5 - Mild to Medium |
| Acidity | 4/5 - Medium to High |
| Aroma | 3.5/5 - A strikingly sweet and fruity lollipop |
| Body | 4/5 - Round, opaque with a smooth long-lasting aftertaste |
| Balance | 4/5 - Proportionate |
| Origin | Tarrazu, Costa Rica (Arabica, Bean Score: 83) |

Soul

100% organic Arabica beans are expertly roasted to create a silky smooth medium blend.

Flavour/Taste
A silky composition of nuts and organic dark chocolate with a hint of sweetness from blackcurrants
Roast
Light to Medium
Strength
4/5 - Medium to Strong
Acidity
4/5 - Medium
Aroma
4/5 - A reverent mingling of floral, cocoa and nutty aromas
Body
4/5 - Concentrated yet balanced with a medium silky aftertaste
Balance
3.5/5 - Proportionate
Origin
San Miguel Pochuta (Arabica, Bean Score: 80)
Tolima, Colombia (Arabica, Bean Score: 84)
Certification
UTZ Certified
NASAA Certified Organic
Rainforest Alliance