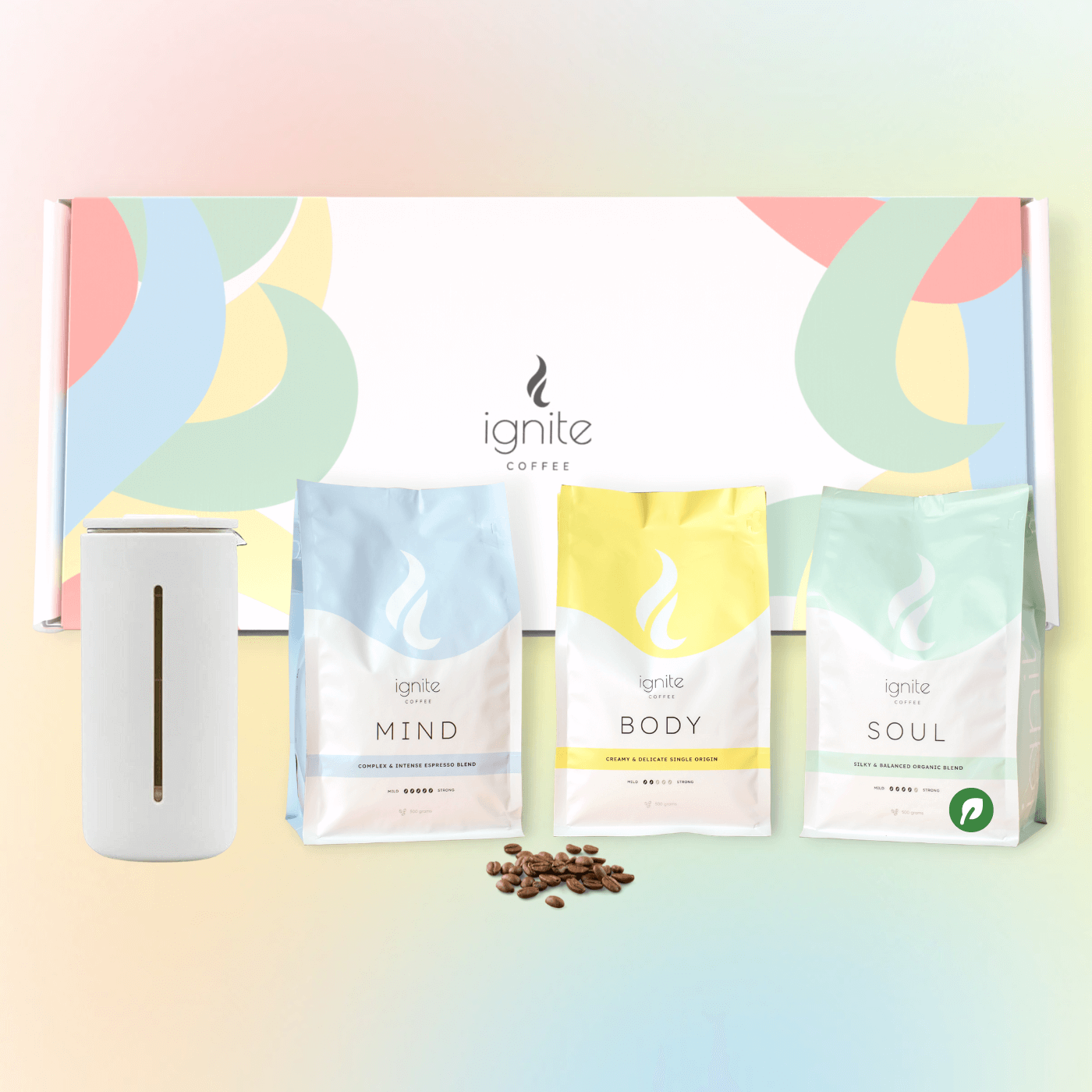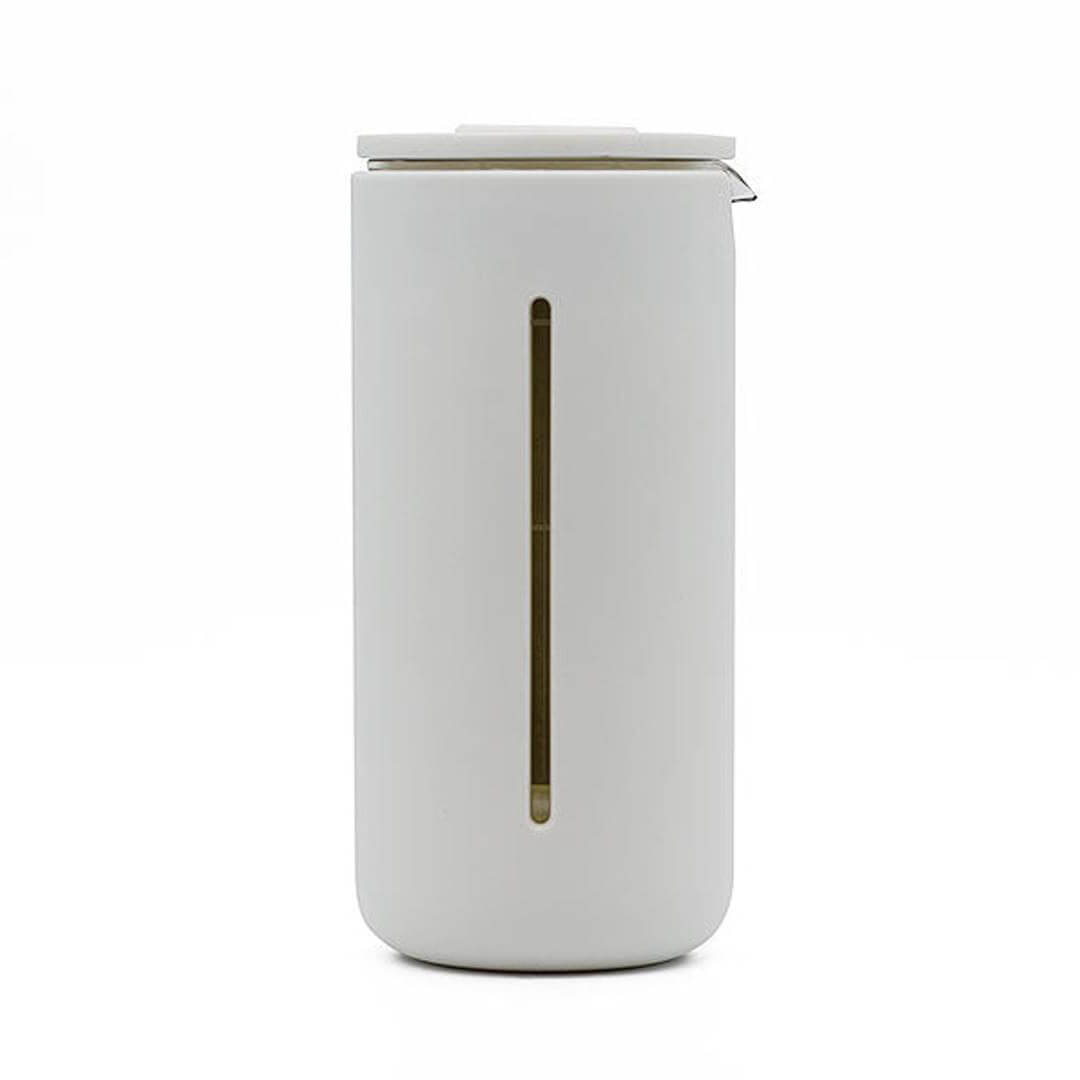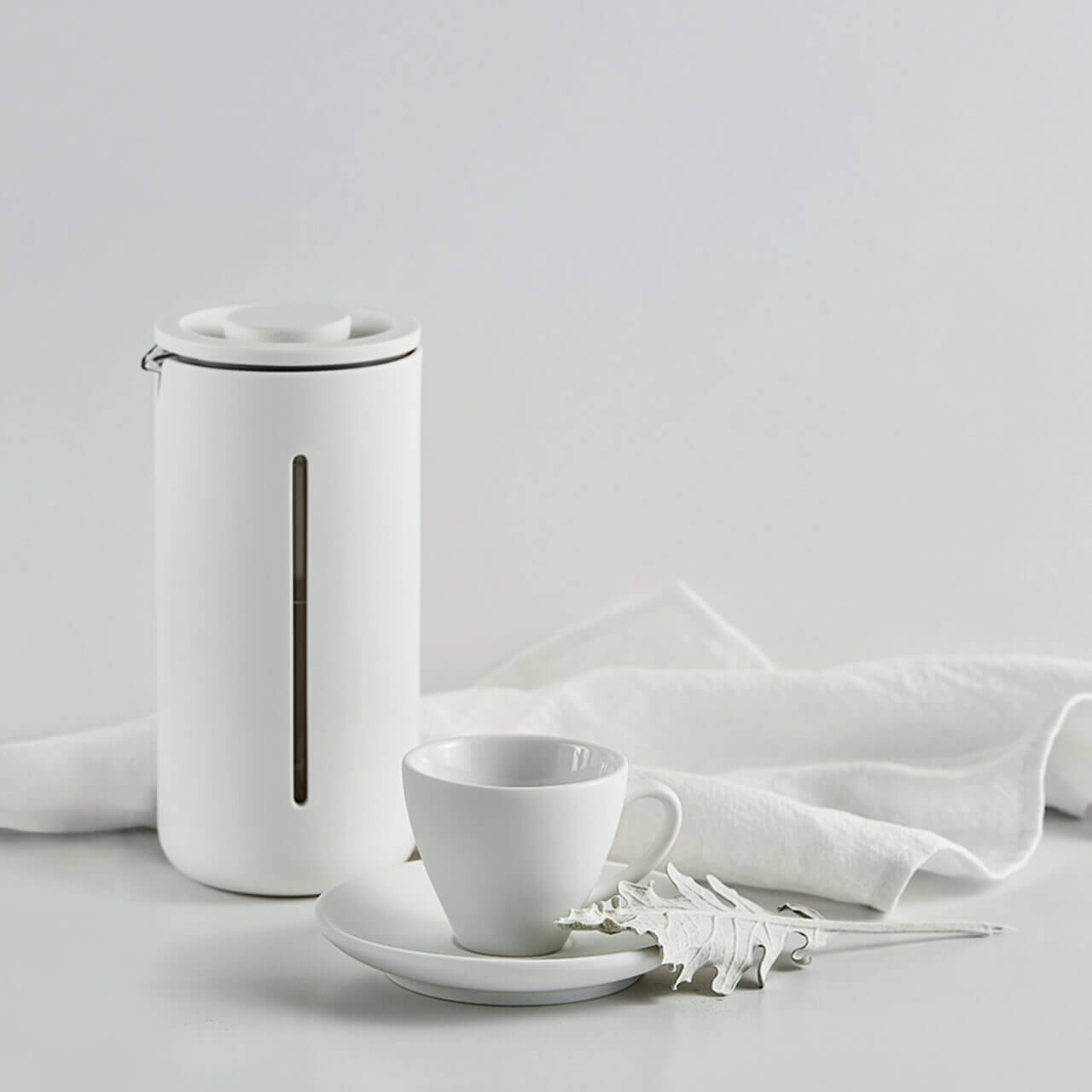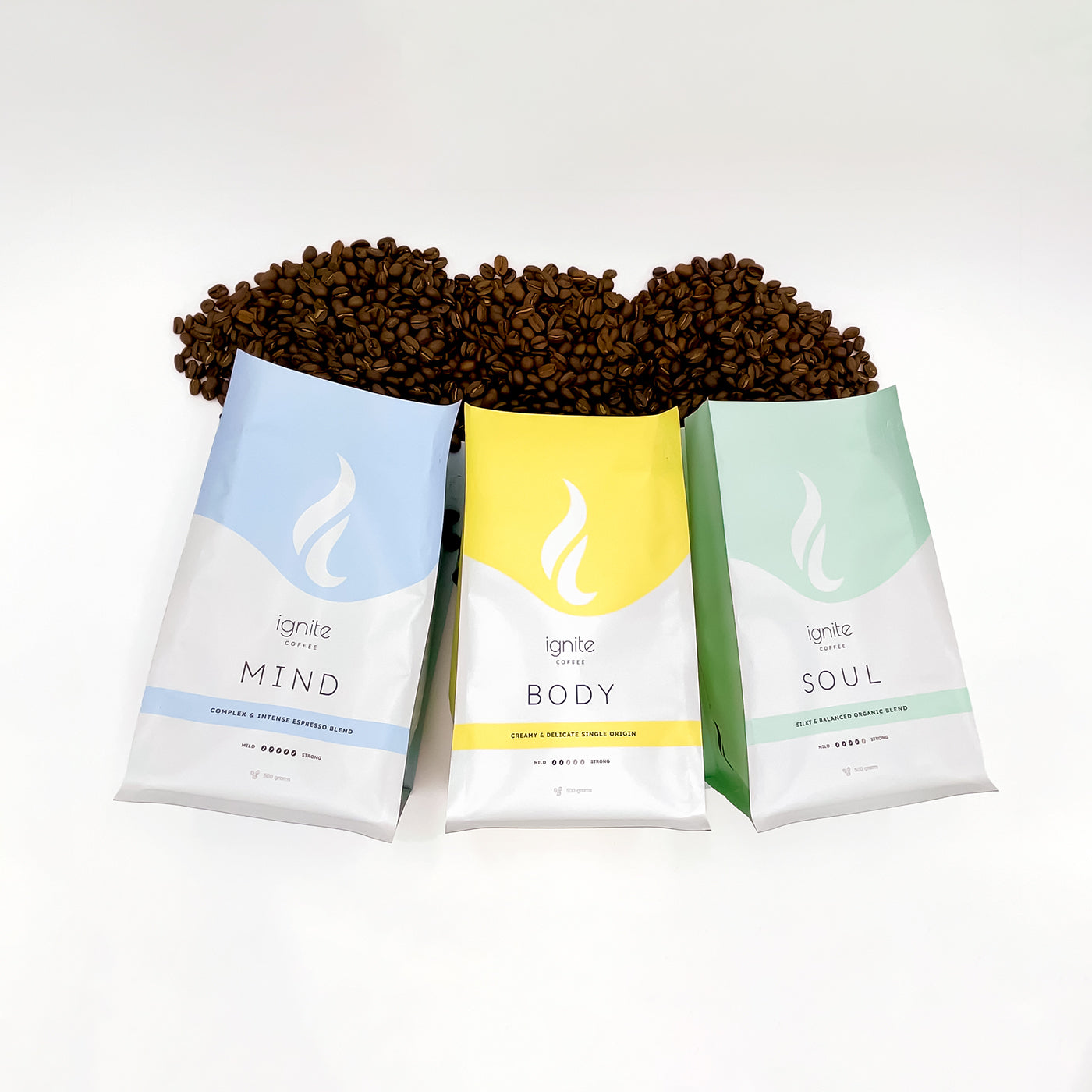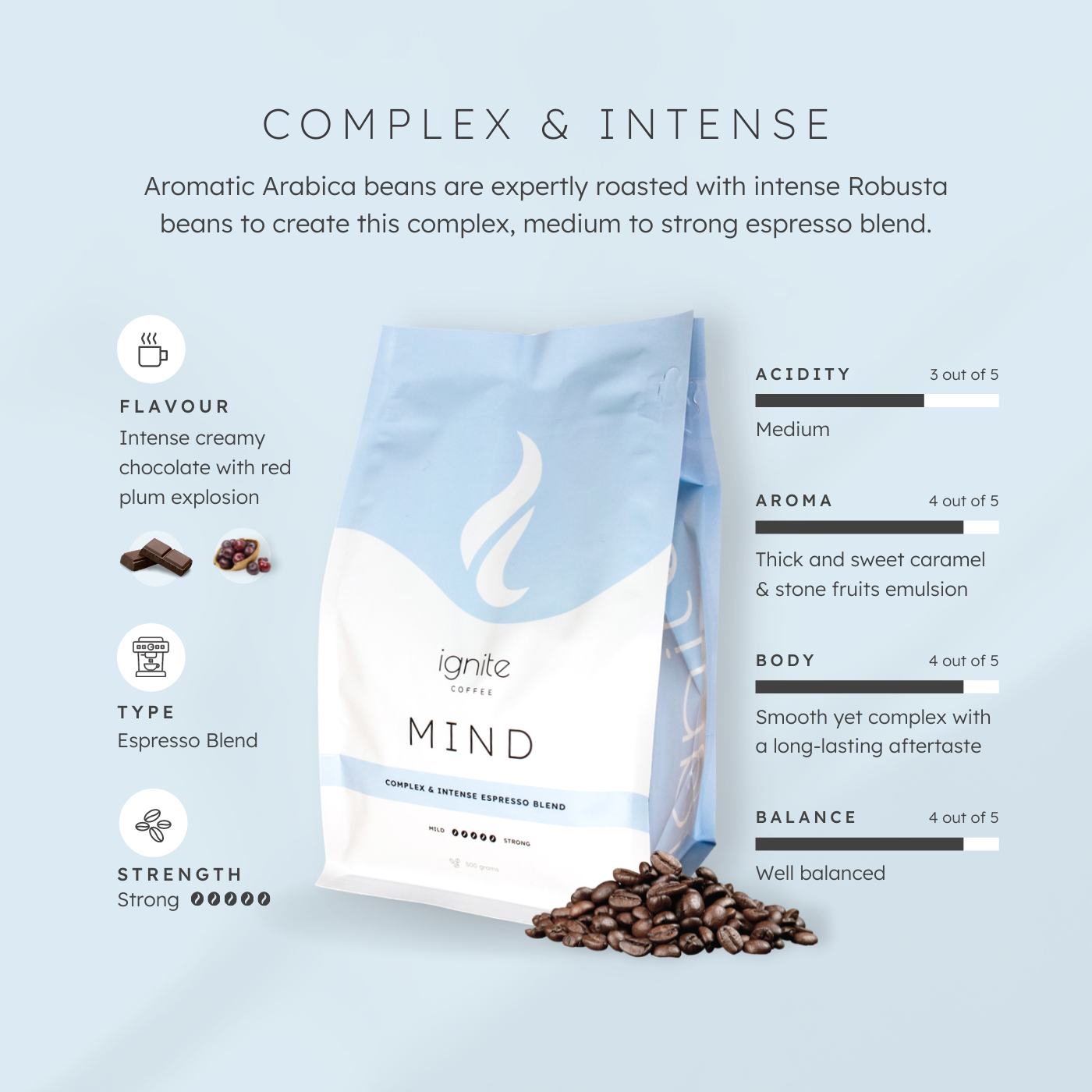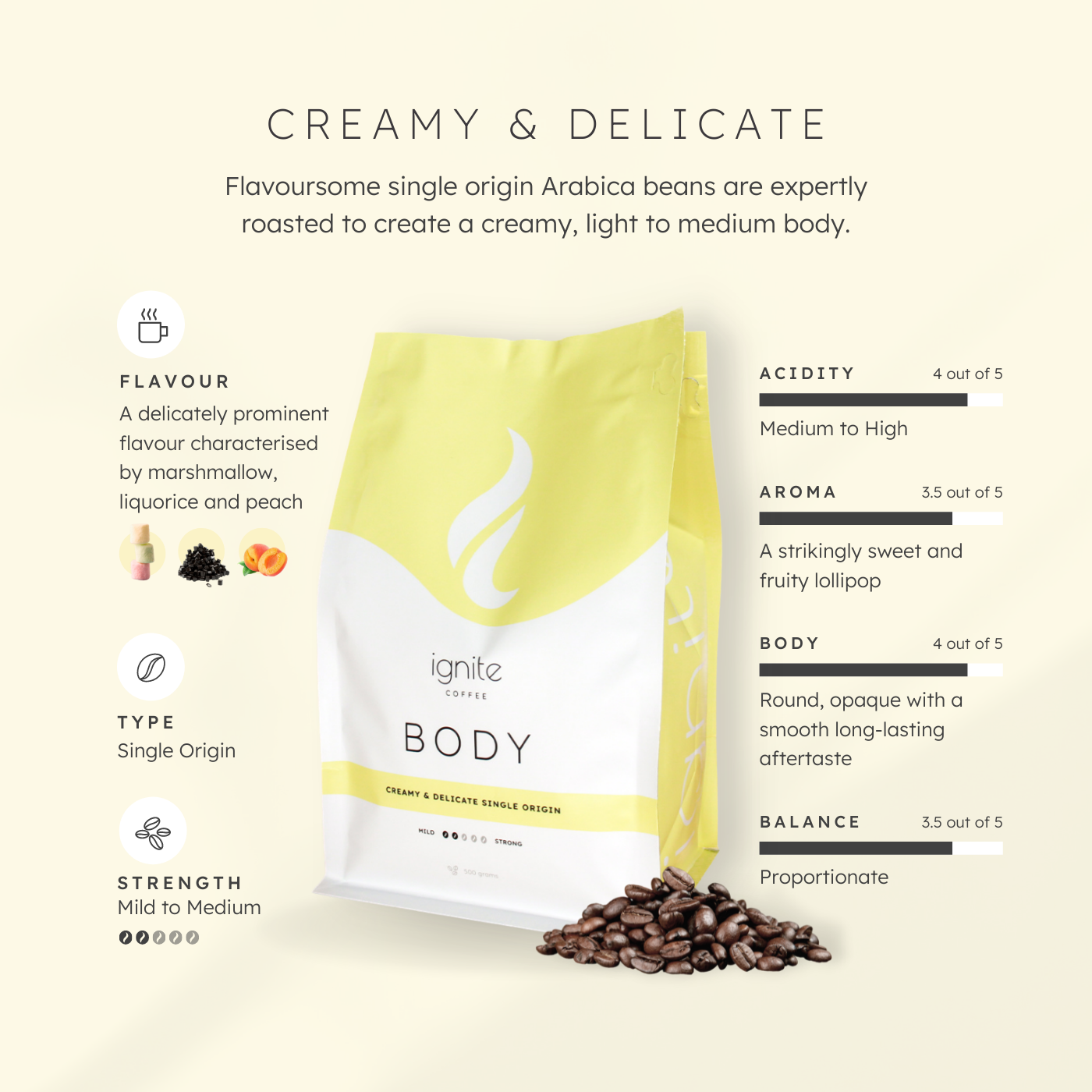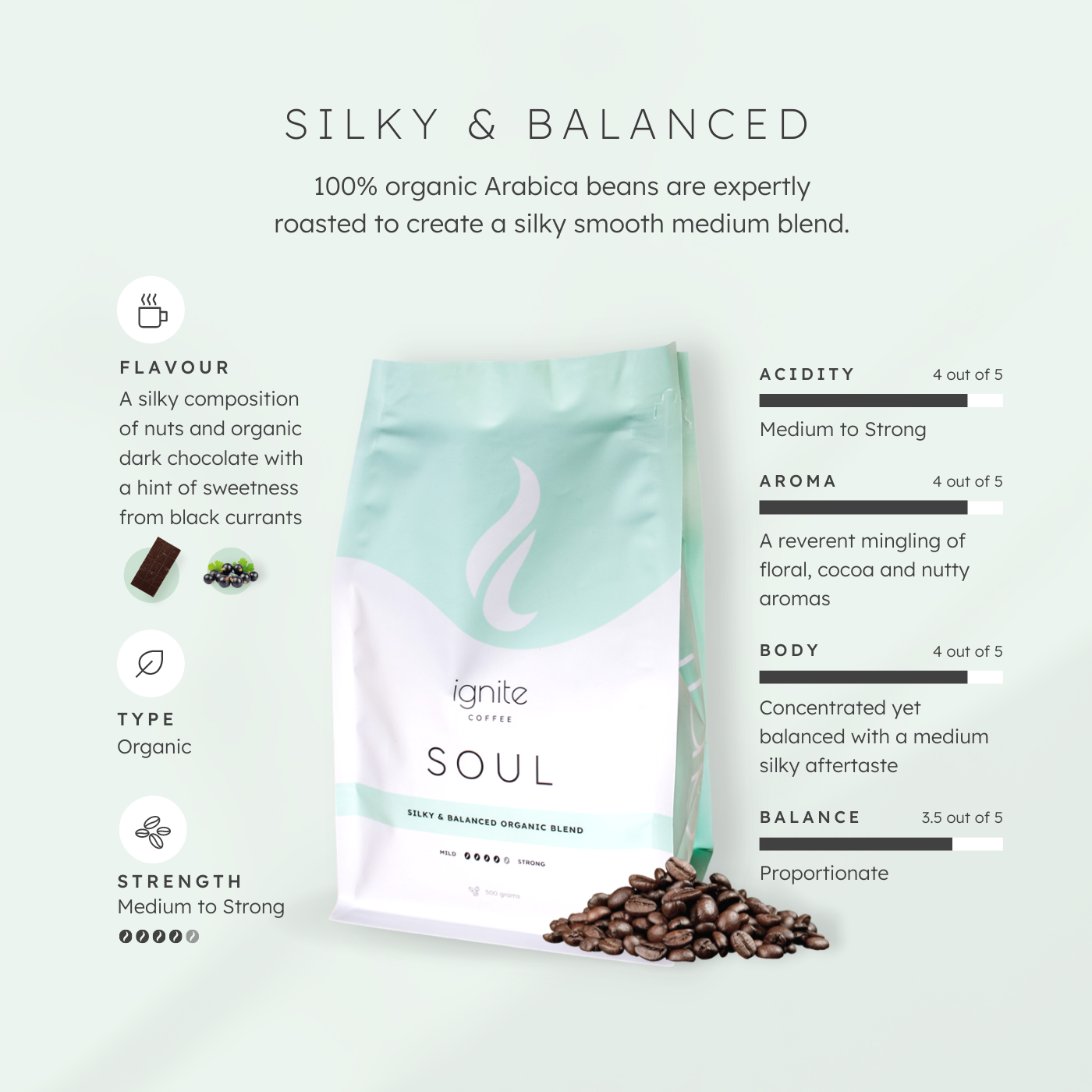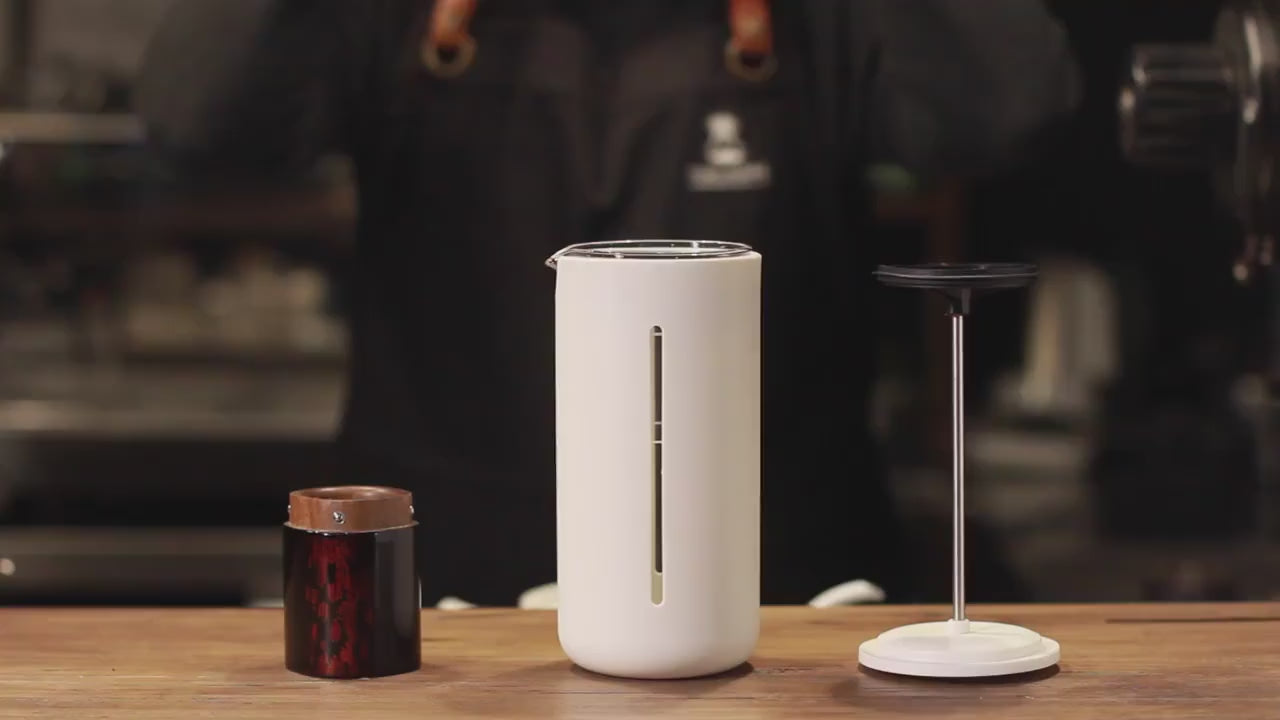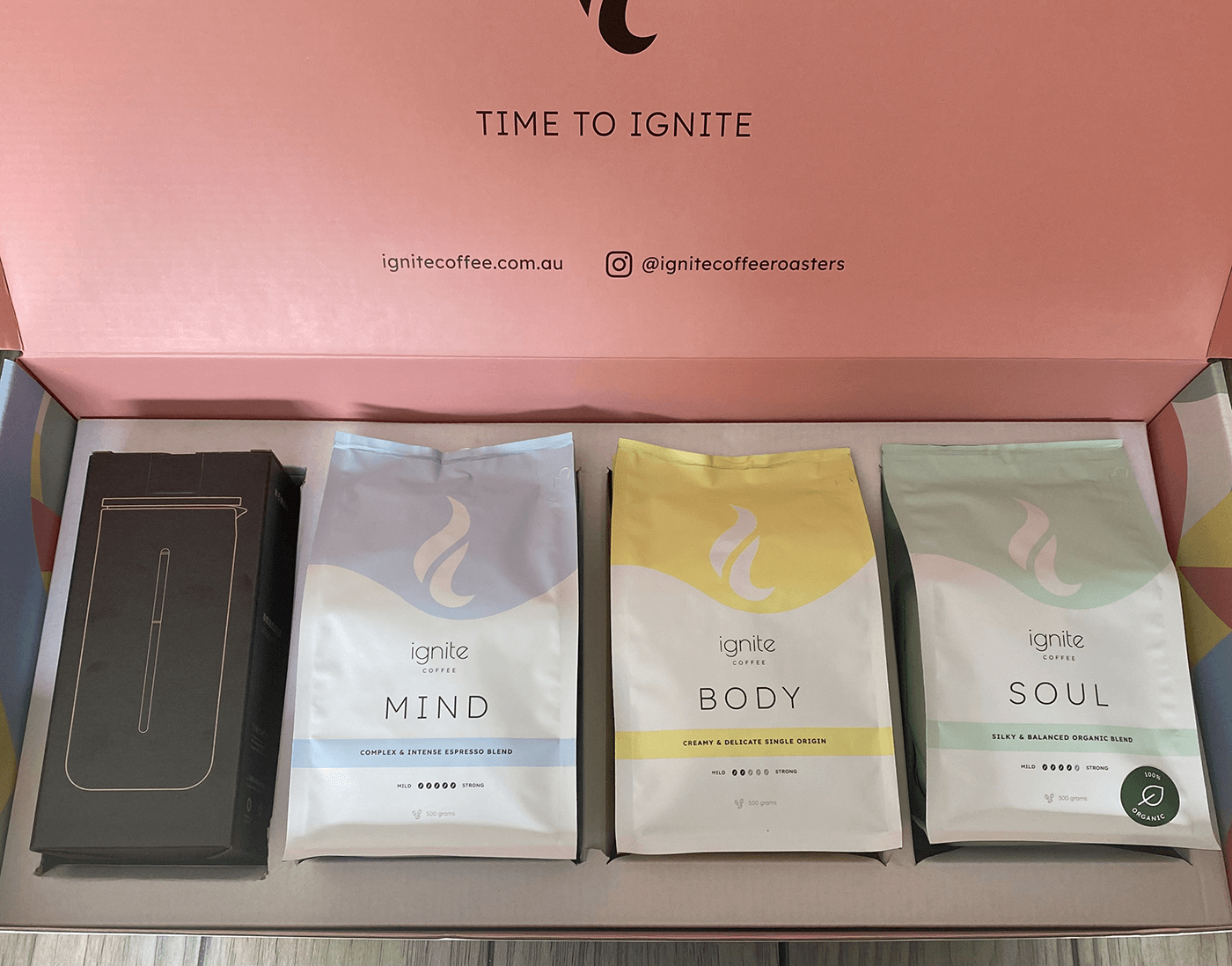 Coffee Starter Gift Pack - Timemore U French Press
The Perfect Trio and a Timemore French Press
Regular price

$86.00 USD

Save 0%

Unit price

per
Help me choose
Free shipping on orders over $50 Australia-wide
A Minimalist Coffee Brewing Experience - Coffee Gift Set
Brewing coffee with a French Press is a simple and timeless way to enjoy a delicious cup of joe. This coffee gift set features a sleek and minimalist French press made of durable borosilicate glass, along with 3x 500g bags of specialty coffee. Our coffee is freshly roasted to ensure optimal flavour and the press filters out all the grit, for a smooth cup every time. Whether you're looking for an easy-to-use starter kit for someone just getting into French pressing or you want to upgrade an existing collection, this set is sure to please.

1 x White Timemore U French Press - clean lines and modern aesthetic
1 x Mind

 

- a c

omplex espresso blend characterised by an intense creamy chocolate with red plum explosion



1 x Body - a creamy single origin with a delicately prominent flavour characterised by marshmallow, liquorice and peach

1 x Soul

 

- a balanced 100% organic blend with a silky

 composition of nuts and organic dark chocolate with a hint of sweetness from blackcurrants
Available as whole beans, ground coffee or 25 compostable Nespresso-compatible capsules.
10% of our net profits goes to charity. Read more.
Coffee Grind Size Chart
Match your preferred brewing type to the typical grind size below.
Turkish
Espresso Machine
Moka Pot/Stove Top
Reusable Pods
Pour Over
Machine Drip
Siphon
AeroPress
Chemex
French Press
Cold Brew
Percolator
Get to know your coffee
Our mission is to provide people with specialty great tasting coffee that is ethically sourced while giving back to make this a better world.
What's in the Box
1 x Timemore U French Press in White
3 x 500g Whole Bean/Ground OR 3x 25 Compostable Pods Specialty Coffee
Timemore U French Press
The Timemore U French Press features a thick and durable borosilicate glass carafe and a very fine 0.35mm mesh filter that ensures no nasty grinds find their way into your cup. The easy-grip and heat-resistant minimalist sleeve makes it easy to hold and pour plus ensures all the heat is kept in the brew for a hotter coffee. The tight v-shaped spout of the U helps maintain a steady and smooth pour with no drips.
The easy to clean glass carafe can be removed from the sleeve and put back easily. Markings on the inside of the glass help you measure out your coffee dose and water if you're brewing without scales. The U's capacity is 450ml or two cups of coffee.
| | |
| --- | --- |
| Materials | Borosilicate Glass, Polypropylene Insulating Sleeve, Stainless Steel Filter |
| Temperature Resistant | -30° to 200°C |
| Capacity | 450ml |
| Filter | 0.35mm S/S Filter |
Basic French Press Instructions
Grind 30g of coffee at a coarse setting and pour into the carafe
Add 450ml of hot water to the French press, saturating all the grounds
Wait 3-4 minutes, then plunge the filter
Pour and enjoy
Mind
Aromatic Arabica beans are expertly roasted with intense Robusta beans to create this complex, medium to strong espresso blend.
Flavour/Taste
Intense creamy chocolate with red plum explosion
Roast
Medium to Dark
Strength
5/5 - Strong
Acidity
3/5 - Medium
Aroma
4/5 - Thick and sweet caramel and stone fruits emulsion
Body
4/5 - Smooth yet complex with a long-lasting aftertaste
Balance
4/5 - Well-balanced
Origin
Waghi Valley, Papua New Guinea (Arabica, Bean Score: 80)
Eastern Kenya, Kenya (Arabica, Bean Score: 80)
Chimagalur, India (Robusta, Bean Score: 80)
Body
Flavoursome Arabica beans are expertly roasted to create a creamy, light to medium body single origin coffee.
| | |
| --- | --- |
| Flavour/Taste | A delicately prominent flavour characterised by marshmallow, liquorice and peach |
| Roast | Medium |
| Strength | 2/5 - Mild to Medium |
| Acidity | 4/5 - Medium to High |
| Aroma | 3.5/5 - A strikingly sweet and fruity lollipop |
| Body | 4/5 - Round, opaque with a smooth long-lasting aftertaste |
| Balance | 4/5 - Proportionate |
| Origin | Tarrazu, Costa Rica (Arabica, Bean Score: 83) |
Soul
100% organic Arabica beans are expertly roasted to create a silky smooth medium blend.
Flavour/Taste
A silky composition of nuts and organic dark chocolate with a hint of sweetness from blackcurrants
Roast
Light to Medium
Strength
4/5 - Medium to Strong
Acidity
4/5 - Medium
Aroma
4/5 - A reverent mingling of floral, cocoa and nutty aromas
Body
4/5 - Concentrated yet balanced with a medium silky aftertaste
Balance
3.5/5 - Proportionate
Origin
San Miguel Pochuta (Arabica, Bean Score: 80)
Tolima, Colombia (Arabica, Bean Score: 84)
Certification
UTZ Certified
NASAA Certified Organic
Rainforest Alliance
Additional Information

What's in the Box

1 x Timemore U French Press in White
3 x 500g Whole Bean/Ground OR 3x 25 Compostable Pods Specialty Coffee

Timemore U French Press

The Timemore U French Press features a thick and durable borosilicate glass carafe and a very fine 0.35mm mesh filter that ensures no nasty grinds find their way into your cup. The easy-grip and heat-resistant minimalist sleeve makes it easy to hold and pour plus ensures all the heat is kept in the brew for a hotter coffee. The tight v-shaped spout of the U helps maintain a steady and smooth pour with no drips.

The easy to clean glass carafe can be removed from the sleeve and put back easily. Markings on the inside of the glass help you measure out your coffee dose and water if you're brewing without scales. The U's capacity is 450ml or two cups of coffee.

| | |
| --- | --- |
| Materials | Borosilicate Glass, Polypropylene Insulating Sleeve, Stainless Steel Filter |
| Temperature Resistant | -30° to 200°C |
| Capacity | 450ml |
| Filter | 0.35mm S/S Filter |

Basic French Press Instructions

Grind 30g of coffee at a coarse setting and pour into the carafe
Add 450ml of hot water to the French press, saturating all the grounds
Wait 3-4 minutes, then plunge the filter
Pour and enjoy

Mind

Aromatic Arabica beans are expertly roasted with intense Robusta beans to create this complex, medium to strong espresso blend.

Flavour/Taste
Intense creamy chocolate with red plum explosion
Roast
Medium to Dark
Strength
5/5 - Strong
Acidity
3/5 - Medium
Aroma
4/5 - Thick and sweet caramel and stone fruits emulsion
Body
4/5 - Smooth yet complex with a long-lasting aftertaste
Balance
4/5 - Well-balanced
Origin
Waghi Valley, Papua New Guinea (Arabica, Bean Score: 80)
Eastern Kenya, Kenya (Arabica, Bean Score: 80)
Chimagalur, India (Robusta, Bean Score: 80)

Body

Flavoursome Arabica beans are expertly roasted to create a creamy, light to medium body single origin coffee.

| | |
| --- | --- |
| Flavour/Taste | A delicately prominent flavour characterised by marshmallow, liquorice and peach |
| Roast | Medium |
| Strength | 2/5 - Mild to Medium |
| Acidity | 4/5 - Medium to High |
| Aroma | 3.5/5 - A strikingly sweet and fruity lollipop |
| Body | 4/5 - Round, opaque with a smooth long-lasting aftertaste |
| Balance | 4/5 - Proportionate |
| Origin | Tarrazu, Costa Rica (Arabica, Bean Score: 83) |

Soul

100% organic Arabica beans are expertly roasted to create a silky smooth medium blend.

Flavour/Taste
A silky composition of nuts and organic dark chocolate with a hint of sweetness from blackcurrants
Roast
Light to Medium
Strength
4/5 - Medium to Strong
Acidity
4/5 - Medium
Aroma
4/5 - A reverent mingling of floral, cocoa and nutty aromas
Body
4/5 - Concentrated yet balanced with a medium silky aftertaste
Balance
3.5/5 - Proportionate
Origin
San Miguel Pochuta (Arabica, Bean Score: 80)
Tolima, Colombia (Arabica, Bean Score: 84)
Certification
UTZ Certified
NASAA Certified Organic
Rainforest Alliance